Neutein is Backed By More Human Clinical Research Than Any Other Memory Supplement
Neutein and its ingredients have been tested more than any other brain supplement with more participants, longer studies and stricter criteria for success. Why do we care so much? Because we believe that nootropics can drastically improve peoples lives.

Neutein is a unique breakthrough supplement that combines natural, patented, antioxidant extracts from spearmint and marigold to help improve your brain health while increasing your ability to multi-task, improving your attention, enhancing your brain function, all while helping your sleep better at night. helping you sleep.
With a single dose research subjects experienced a 93% increase in attention test score after 2.25 hrs and a 121% increase in attention test score after 4 hrs.
With daily use research subjects experienced increases in working memory (e.g. short term memory and multitasking) and enhanced ability to fall asleep at night. 
A 37% increase in cognitive function (as measured by Verbal Fluency test in Tufts Center for Aging Study) 
Clinically show to enhance levels of the key antioxidant in the retina that helps filter out dangerous blue light.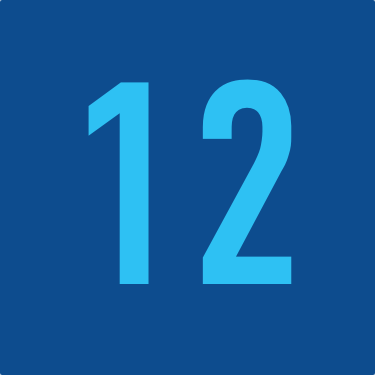 CLINICAL STUDIES 
BuThe specific patented antioxidants in Neutein have been studied in 12 human clinical trials for their effects on memory, attention, multi-tasking, blue light protection, and sleep.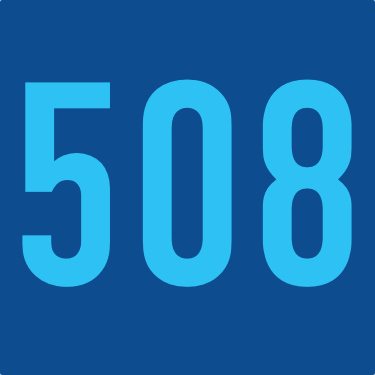 PARTICIPANTS
508 people just like you have participated in Neutein research studies.  This growing number of people helps us better understand how Neutein works in the brains of  people across a wide age range. Neutein is the only memory supplement that has been show to be effective in healthy people ranging from 20 to older than 65 years old.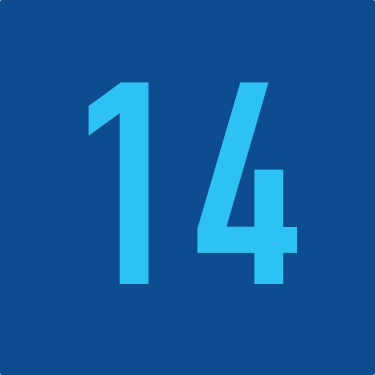 RESEARCH CENTERS
Researcher from all over the world ranging from the United States to Eurpoe to Australia and at prestigious instituions like US Department of Agriculture Human Nutrition Research Center on Aging at Tufts University have worked together to test, study, and examine the effects of Neutein's powerful antioxidants on brain health and function.
Neutein is an Exclusive Combination of Patented, All-Natural, Plant Based Antioxidants.
High Potency Spearmint Extract
Clinically shown to increase working memory, multi-tasking, and sleep quality Neumentix™, proprietary polyphenols derived from spearmint contains herbal extracts from a unique line of spearmint plants, Mentha Spicata, containing more than 50 types of polyphenol antioxidants such as rosmarinic acid and salvianolic acid. The spearmint used in Neutein™ is grown on family farms in Indiana. 
Patented Carotenoids from Marigold 
Naturally occurring carotenoids block blue light to combat degeneration FloraGLO™ is the most trusted and clinically tested lutein brand in the world. The proprietary form of lutein found in our formula has been used in over 70 research studies from infants to elderly. The marigold flowers used to make ingredients in Neutein™ are grown on family farms in India and processed in Iowa.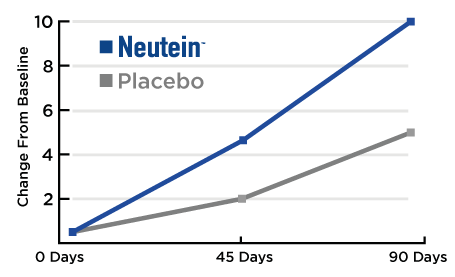 Effects on Spatial Working Memory
Spatial Working Memory is the component of your short term memory that remembers where things are in the space around you. Forget where you placed your keys? Can't remember where you parked your car? Neutein has you covered!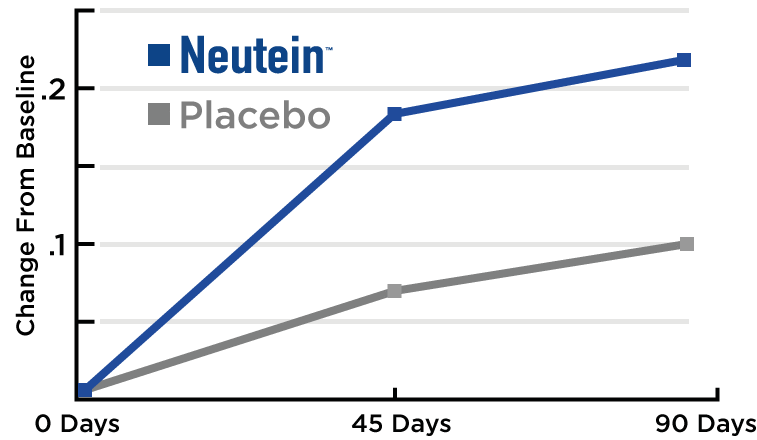 Effects on Working Memory
Working Memory is part of your short term memory, like mental sticky notes for your brain. This is where you store information that you need to use while doing other things – science-speak for multi-tasking. The longer you take Neutein the more your working memory will improve.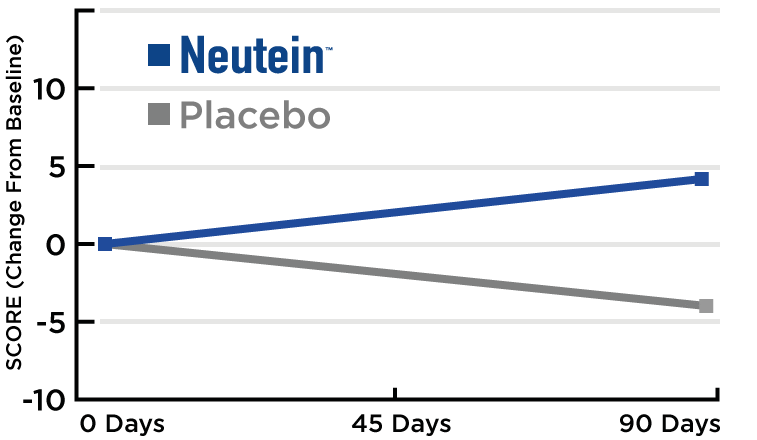 Greater Ease of Falling Asleep at Night
Many supplements that improve brain function are stimulants that can negatively impact sleep. However, this clinical trial showed that with daily use Neutein can improve your ability to fall asleep at night, which is essential to brain health. Take Neutein anytime of day for an easier time falling asleep at night.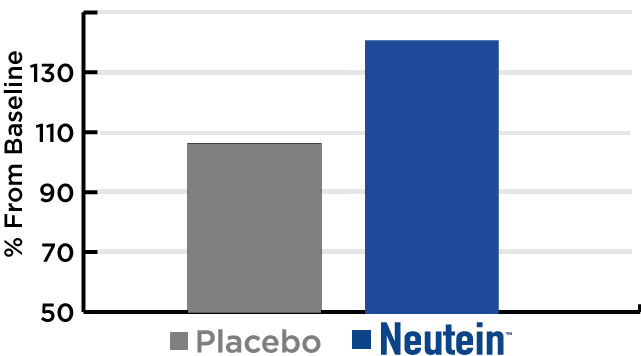 Effects on Attention & Concentration
When you want improved attention and concentration right away - Neutein can help. Research shows that within 2 hours and 15 minutes of taking Neutein increases attention and concentration. These effects sustain for more than 4 hours. Why wait 30, 45, or even 90 days to reap the benefits of your memory supplement - Neutein helps now.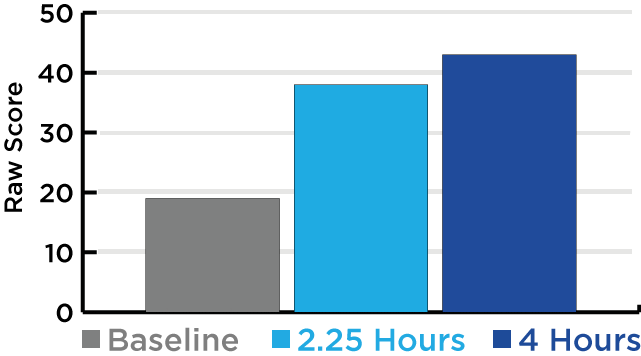 Effects on Verbal Fluency
Verbal fluency tests are used to measure changes in executive function of the brain these are the actions of the brain, that let people plan, organize and complete tasks. Research published in Nutritional Neuroscience shows that with daily use the compounding effects of the patent lutein antioxidant found in Neutein enhances executive brain function.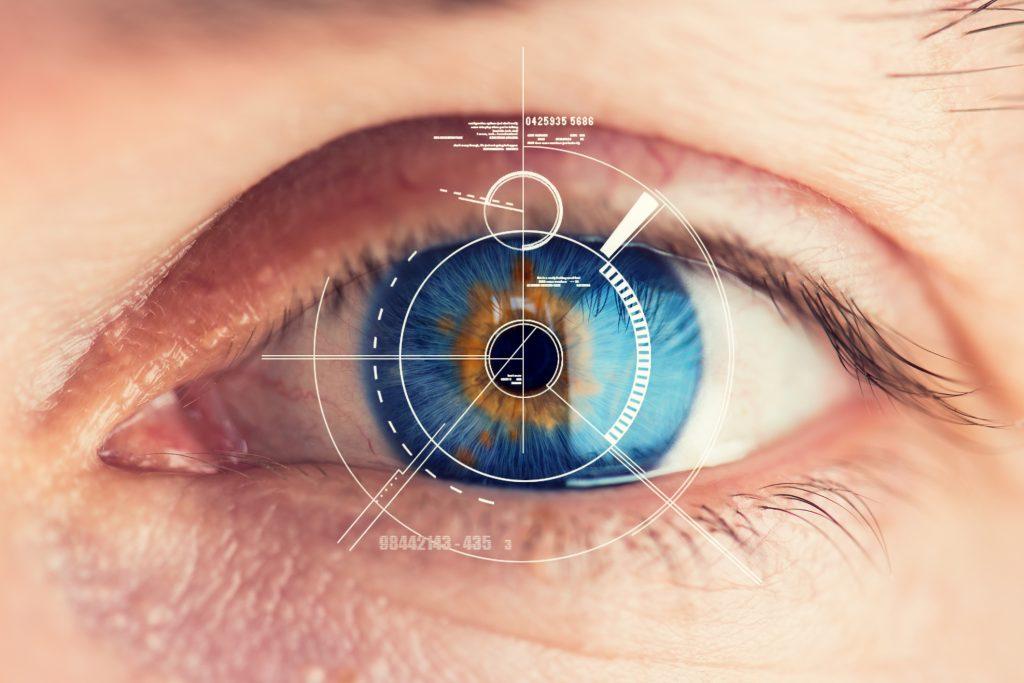 Neutein Helps Protect Your Eyes From Eye Fatigue and Damage Due to Blue Light Exposure
Blue light is a specific kind of light that is emitted in large amounts from LED lights (smartphones, TVs, computers, etc) and energy efficient light bulb. These high energy waves of light can cause eye fatigue, strain, while increasing the risk of long term damage.  needs to stay cool, soft and beautifully hydrated. This cooling, liquid moi
Four separate research studies show that the specific patented form of lutein found in Neutein is able to concentrated in your eyes where it works to filter out blue light. Reducing eye strain, fatigue, and risk of premature eye aging.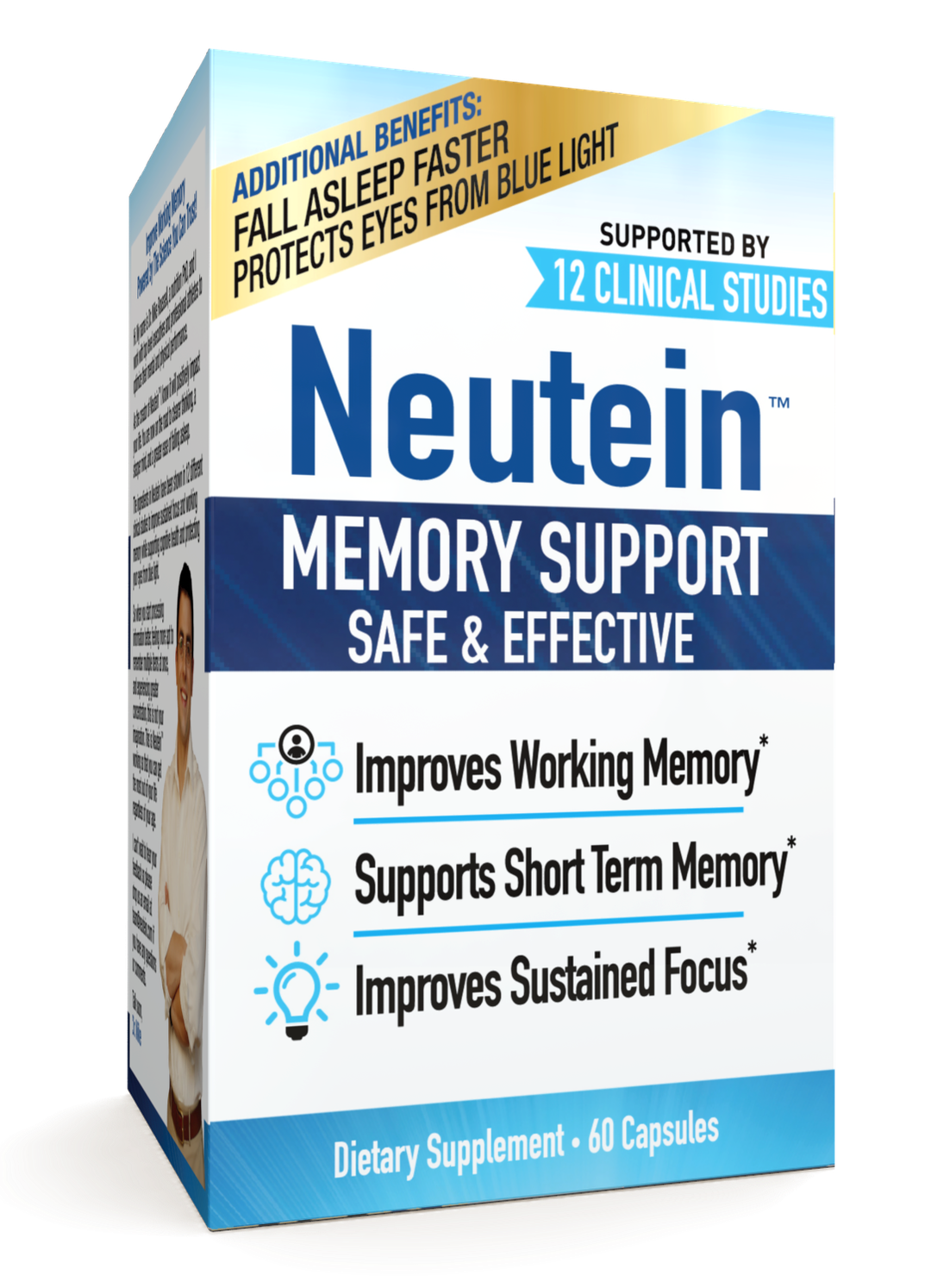 Modern life is pushing us to our limits. With every passing day we are pushed harder and further with stress levels continuing to grow. Leaving us with less time focus on what matters, greater expectations around juggling multiple tasks at ounce resulting in increased anxiety, impaired short term memory, and greater trouble following asleep.
Neutein is a the Antidote to Modern Life. Backed by 12 studies and millions of dollars in human clinical research - Neutein is the all-natural plant-based cognitive enhancement supplement that you have been waiting for. Clinically shown to:
Increase

attention

and

concentration

within 2hrs and 15 minutes.
Improve your ability to

multi-task

Improve your

short term memory

Improve your

executive brain function

Improve your

sustained focus

Improve your ability to

fall sleep easier at night
...AND protect you from the blue light emitted by screens and devices that is causing eye strain and the premature aging of your eyes.
Selected References
Bovier et al. A randomized placebo-controlled study on the effects of lutein and zeaxanthin on visual processing speed in young healthy subjects. Arch Biochem Biophys. 2015.
Bovier, et al. A double-blind, placebo-controlled study on the effects of lutein and zeaxanthin on neural processing speed and efficiency. PLoS One. 2014.
Falcone et al. Efficacy of a nootropic spearmint extract on reactive agility: a randomized, double-blind, placebo-controlled, parallel trial. J Int Soc Sport Nutr. 2018.
Hammond et al. Effects of Lutein/Zeaxanthin Supplementation on the Cognitive Function of Community Dwelling Older Adults: A Randomized, Double-Masked, Placebo-Controlled Trial. Front Aging Neurosci. 2017.
Herrlinger et al. Acute Effects of a Proprietary Spearmint Extract on Cognition in Healthy Men and Women. Soc. Neurosci. 2016.
Herrlinger, et al. Spearmint Extract Improves Working Memory in Men and Women with Age-Associated Memory Impairment. J Altern Complement Med. 2018.
Johnson et al. Cognitive findings of an exploratory trial of docosahexaenoic acid and lutein supplementation in older women. Nutr Neurosci. 2008.
Kvansakul et al. Supplementation with the carotenoids lutein or zeaxanthin improves human visual performance. Ophthalmic Physiol Opt. 2006.
Lindbergh et al. Lutein and Zeaxanthin Influence Brain Function in Older Adults: A Randomized Controlled Trial. J Int Neuropsychol Soc. 2018.
Rodriguez-Carmona et al. The effects of supplementation with lutein and/or zeaxanthin on human macular pigment density and colour vision. Ophthalmic Physiol Opt. 2006.
Stringham et al. Macular pigment and visual performance under glare conditions. Optom Vis Sci. 2008.
Tolerance, bioavailability, and potential cognitive health implications of a distinct aqueous spearmint extract. Fun. Foods In Health & Dis. 2015.